Advanced Prenatal Massage - 14 CE Hours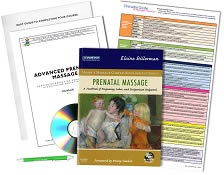 This advanced prenatal course offers a comprehensive guide to all aspects of prenatal, labor and postpartum care.
Through the course text and DVD by Elaine Stillerman, LMT, massage therapists will discover detailed positioning and draping methods. Tis course discusses Swedish massage and acupressure points, myofascial release, lymphatic drainage and reflexology that can assist you in working with the pregnant client.
Learn more about the Advanced Prenatal Massage course.
Mastering Pregnancy Massage - 13 CE Hours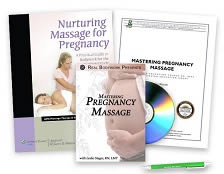 Author, Leslie Stager, RN, LMT, guides you through text and video focusing on general soft-tissue and Swedish massage while also integrating some myofascial release and trigger point techniques for your pregnant and laboring clients.
In addition to the clear charts and illustrations included throughout the course text, the in-depth course video demonstrates proper draping and the techniques in a coherent flow. Learn about the benefits of massage therapy during pregnancy, many hands-on techniques for addressing specific complaints, and cautions and contraindications.
Learn more about the Mastering Pregnancy Massage course.
Introduction to Infant Massage - 3 CE Hours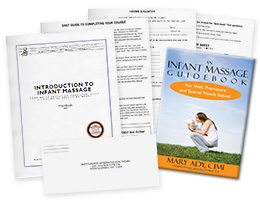 This course is for every massage or bodywork practitioner who wants to be more knowledgeable about giving massage to well, premature and special needs infants.
The textbook, written by Mary Ady, CIMI, NCTMB, presents the research-backed benefits of massage for newborns; a description of more than 50 common infant health disorders; an aromatherapy guide for infants and toddlers; internet links for further study and support, and a bonus section with step-by-step illustrations of how the author conducts an infant massage routine.
Learn more about the Introduction to Infant Massage course.
Infant and Child Massage - 6 CE Hours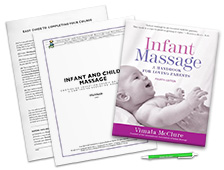 The course text, written by the founder of the International Association of Infant Massage, helps you master the techniques of infant massage so you can incorporate this joyful and wonderful healing art into your practice.
Learn the benefits and key principles of massage for infants and children, including how the author eases discomfort and releases tension in normal and premature infants, asthmatic children, and children with special needs, plus her approaches to consoling crying and fussing infants and relieving colic.
For additional New York 36 hour package options visit our New York Packages page.