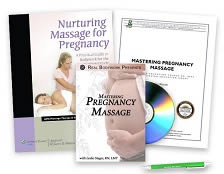 Enrollment Options
Learning Objectives
Observe the unique aspects of working with pregnant, laboring and postpartum women and the benefits of touch during the childbearing cycle as well as the multiple levels on which touch during pregnancy impacts a woman and baby.
Discuss various worldviews of massage during pregnancy and postpartum.
Outline basic embryonic and fetal development.
Describe maternal physiological and emotional changes that take place during each trimester of pregnancy, including the impact of hormonal changes and physiological changes to the organs.
Discuss the impact that weight gain, hormone changes, self-esteem and pre-pregnancy muscle tone have on posture and the postural and muscular stresses and adaptations that occur during pregnancy.
Conduct posture assessment, learning how to adjust posture to relieve strain.
Explain signs of uterine ligament strain.
Recognize when there is separation of the rectus muscle and learn how to prevent and address a separation.
Identify safety concerns and precautions for each trimester, along with high-risk obstetric conditions, and know when to refer pregnant client to a physician based on symptoms that may indicate health problems.
Develop a comprehensive intake for prenatal clients which includes health intake and medical release forms that address concerns for massage therapists.
Locate acupressure points that are contraindicated during pregnancy.
Recognize appropriate positioning for prenatal clients for each trimester and show proper draping and methods for supporting the client's changing body.
List 10 common complaints of pregnant women and their causes.
Understand massage techniques and facilitated stretching for addressing common prenatal complaints.
State the benefits, concerns and contraindications of breast massage during pregnancy.
Ascertain massage techniques that facilitate physical relaxation in preparation for labor.
Explain the physiological and emotional benefits of touch for pregnant woman and the impact stress can have on labor.
State an explanation of Gate Control Theory of pain and how it applies to touch during birth.
Differentiate between the different stages of labor and identify which techniques are appropriate for each stage.
List topics that should be discussed with clients before birth.
Recognize 5 different positions that may be used during labor to make the woman more comfortable.
State 6 complaints and conditions of labor that can be addressed by massage therapy; including slowed or stalled labor and "back labor".
Explain physiological and structural changes that occur during postpartum and discuss the benefits of massage therapy for these conditions.
Recognize the contraindications and precautions for the postpartum period.
Demonstrate assessment of spine, posture, abdominals and psoas during postpartum period.
Give reasons for 10 common postpartum complaints and identify massage techniques for each.
Examine postpartum breast massage techniques.
Specify 11 reasons why a cesarean section may be done and identify benefits and precautions for massage when working on clients who have had a C-section.
Back to top
Enroll Now