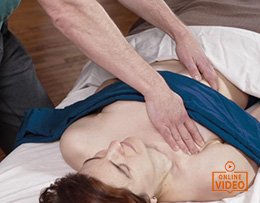 Enrollment Options
Learning Objectives
Identify the bony landmarks of the rib cage, and the relevant muscular attachments.
Describe the function of the rib cage in the breathing process, both diaphragmatic and paradoxical breathing.
Recognize clear and effective draping to expose the rib cage while keeping breast tissue covered, when the client is in supine.
Demonstrate clear communication with the client both before and during work on the rib cage.
Perform techniques in both prone and supine to address: external and internal intercostal muscles, subclavius, the related layers of fascia, and the thoracic joints both anterior and posterior.
Recognize how to contact this sensitive area both with confidence and ease, using an awareness of their own body mechanics in order to work as light or as deep as the client needs, while still maintaining their own bodily integrity.
Back to top
Enroll Now