Introduction to Chair Massage - 7 CE Hours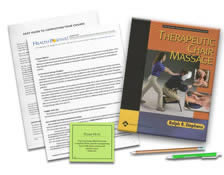 This course provides key conceptual preparation and encouragement to seek additional hands-on training in seated massage, and reviews core elements that will benefit experienced seated massage practitioners.
Through text, photos, case studies and sample forms, explore an expert's recommendations for equipment, communication, documentation and body mechanics. The textbook also provides detailed instructions and photos for numerous seated massage routines.
Learn more about the Introduction to Chair Massage course.
Chair Massage Fundamentals - 12 CE Hours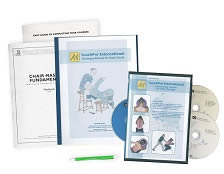 This home study program is presented by David Palmer, the 'father' of Chair Massage according to Massage Magazine and the developer of the first massage chair. Based on Japanese acupressure techniques, this program presents a complete chair massage sequence for the neck, shoulders, back, hips, arms, hands, and scalp. This step-by-step presentation teaches practitioners three complete, upper body acupressure sequences.
Learn more about the Chair Massage Fundamentals course.
Mastering Chair Massage - 12 CE Hours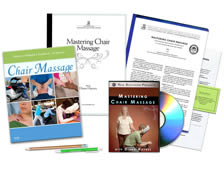 Expand your knowledge of chair massage by learning practical and useful information to design, implement and maintain a successful chair massage business or to complement an existing practice.
Presented in a format that will educate, inspire and prepare you to integrate seated massage into an existing practice, create a new business exclusively with seated massage or develop classes to educate practitioners in this modality, Mastering Chair Massage begins with simple techniques and progresses to enhanced skills while emphasizing good body mechanics throughout.
Learn more about the Mastering Chair Massage course.
Ethics of Diversity - 4 CE Hours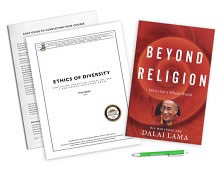 In Beyond Religion, the Dalai Lama proposes the development of a secular system of ethics that transcends religion and focuses on our shared humanity and our interdependence as a key part of that humanity. His Holiness discusses the importance of global tolerance and rejection of violence, as well as the need for morality to be included in education.
Learn more about the Ethics of Diversity course.
For additional New York 36 hour package options visit our New York Packages page.