Health Positive will be undergoing maintenance on Wednesday, 6/22/22 from 3:00PM to 3:30PM EST. During this time the site may be unavailable. We thank you for your patience.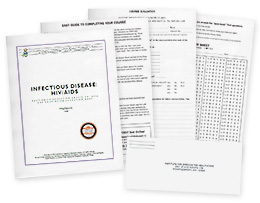 Enrollment Options
Description
Learn about modes of transmission, infection control procedures, clinical management, and prevention of human immunodeficiency virus and acquired immune deficiency syndrome as well medical prevention and treatment.
This continuing education course also covers information with regard to universal precautions for healthcare workers and implications for the massage therapist.
Back to top
Enroll Now
Learning Objectives
Define and describe HIV/AIDS.
Identify ways to become infected with HIV.
Describe infection control procedures; clinical management and infection prevention strategies.
Give examples of appropriate behavior for infection prevention.
Describe clinical management.
Modify attitudes and behavior.
Back to top
Enroll Now