Health Positive will be undergoing maintenance on Wednesday, 6/22/22 from 3:00PM to 3:30PM EST. During this time the site may be unavailable. We thank you for your patience.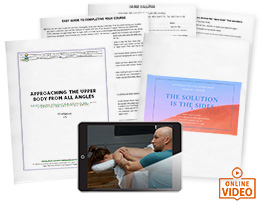 Enrollment Options
Learning Objectives
List the muscles located on or around the lateral aspect of the upper body, from the quadratus lumborum to the scalenes.
Describe the ways that these lateral musculature can contribute to some of the typical complaints of upper body stress and tension and dysfunction.
Practice 14 specific techniques to engage these lateral structures from uncommon angles and with uncommon approaches.
Learn to create each stroke by leaning with their whole body, in order to address this vulnerable area of the client in a way that feels safe to the client and safe for their own body mechanics.
Back to top
Enroll Now