AMTA Massage Therapy
Continuing Education Requirements
It is our current understanding that the American Massage Therapy Association (AMTA) requires massage therapy continuing education at the Professional Level of membership. The current requirement, beginning with the first full year of membership, is 48 hours of massage therapy continuing education every 4 years.
It is our understanding that the AMTA will accept all of our home study programs because we are an Approved Provider of Continuing Education by the NCBTMB.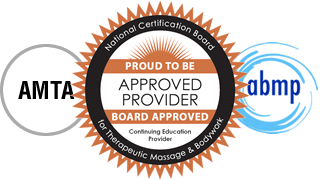 Remember, the Institute for Integrative Healthcare Studies is approved by the NCBTMB as a continuing education Approved Provider (#049478-00) and Health Positive! is a division of the Institute. All of our continuing education programs can be used for your Board Certification renewal.
You may also use our credits for other organizations you belong to such as the American Massage Therapy Association (AMTA) or Associated Bodywork and Massage Professionals (ABMP).